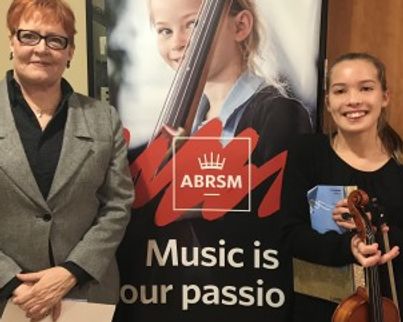 Instructor Sue Lewis with student Abby S.
Just passed the ABRSM exam earning a merit for high points and a spot in the Honors Concert!
The ABRSM is great for more serious students who have the goal of auditioning for university scholarships, top youth orchestras or becoming a professional musician. This accelerated, more  intensive course is available in partnership with the Associated Board of the Royal Schools of Music. In this program, the student is prepared for a once and/or twice a year rigorous exam requiring the playing of select pieces, scales and arpeggios, sight reading and ear training. The candidate performs for the visiting Associated Board Examiner from London England and is graded on a point system. Upon passing the student receives a beautiful certificate, which looks great on a college application, and additional awards for high scores. Once a year at a separate time, a written exam for music theory is taken. The exams are graded 1 to 8 and can be classical or jazz depending on the candidate's choice.