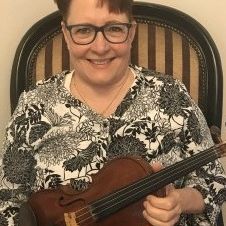 Sue Lewis
Violin, Viola and Cello Instructor
Sue Lewis is a seasoned musician and experienced teacher. She earned a music degree from PSU in 2006 and received the Merit award from the Associated Board of their Royal Schools of Music , London England in 2001.
She has played violin viola and cello in a variety of ensembles, musical theater orchestras, Satin Strings Quartet, Cedro Willie folk band, Laura Mims country band, the Vancouver Symphony and Mango Nights jazz band. She is the arranger and violinist of the highly acclaimed jazz album "Reason to Live".
Currently she teaches online and in person at Valley Catholic Music School.
All ages, all levels welcome 
University trained instructor with extensive performance, recording and teaching experience.
Choose from a variety of styles: classical, jazz, fiddle, tango, World Music and more.
Music Theory and Ear Training. 
 The Associated Board of the Royal Schools of Music program www.abrsm.org available for more serious students.
4 Recitals per year
 Traditional and modern music methods.
Fun play along accompaniments in CD or mp3 formats.
  14yo student, Selea Frost, performing with Mango Nights. 
"I endeavor to provide a fun, non intimidating environment for students while motivating them to achieve their highest potential" - Sue Lewis

Beginning students learn several simple songs that teach great tone and rhythm using classical, folk, blues, rock, ragtime, bluegrass. Students learn concepts such as syncopation, rhythm, note reading, articulations, dynamics, asymmetrical time meters and and more. Each book comes with a CD with piano accompaniment which makes practicing at home enjoyable.  

Students are gradually introduced to scales, arpeggios, music theory, ear training and sight reading. All this works together to produce "the complete musician". The complete musician is a person who has excellent rhythm, pitch, note reading skills and creativity, a person who can enjoy and appreciate music in it's various forms over a lifetime whether it be for personal enjoyment or as a career.